Dealing with the Climate Challenge in South Arkansas
In January 2020 Climate League board members and staff showed up to support Citizens' Climate Education volunteers who delivered an interactive climate presentation to the Public Policy Panel's lead grassroots organizers.  The organizers arrived from communities across south Arkansas for a gathering in Monticello.
The presenters – Trina Wall, Retha Spencer, and Onie Norman – focused in on the topic pf "Dealing with the Climate Challenge in South Arkansas."  They explained the fundamental science of human-caused climate change, explored local impacts, and discussed solutions with organizers. 
 "We use to have snow days on our school calendar. Now we have rain and flood days, because with the intense rainfalls, buses cannot get through on the rural county roads," Trina Walls.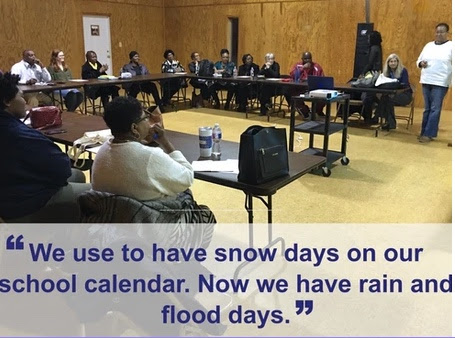 Often communities of color and low-income communities are left out of the climate discussion, and yet these are the very communities that are witnessing and experiencing the effects of climate change the most.
​The Climate League  is committed to engaging community leaders, listening, and providing access to training.  From 2017 – 2019 The Climate League provided scholarships to emerging climate activists across Arkansas, so that these activists could participate in climate conferences/trainings in Arkansas and Washington D.C.