Arkansas Climate League volunteers handed out weatherization and energy bill assistance information at Fort Smith's May 7th Cinco De Mayo Festival. Held at Fort Smith park, the community gathering brought together food vendors, musicians, artisans, healthcare providers, and more.
"It was hot and humid, but the breeze off the river, the upbeat atmosphere, and the opportunity to link individuals and families with helpful energy efficiency and related money-saving resources made for a wonderful day," said Jan Schaper, the Climate League's Administrator and Program Director.
Donations to the Climate League's Outreach and Scholarship Fundraiser were critical to securing a space at the event and preparing bilingual Climate League storyboards and bilingual quarter page handouts with links to the Inflation Reduction Act's energy efficiency rebates/tax credits and an invitation to the 5/19/2023 Community Luncheon co- hosted by the Elizabeth McGill Center and the Climate League. The Luncheon will feature a Crawford Sebastian County Development Council presentation on home weatherization. I
We're grateful to the Development Council for supplying us with Low Income – Home Energy Assistance Program applications which we handed out during the Cinco De Mayo Festival.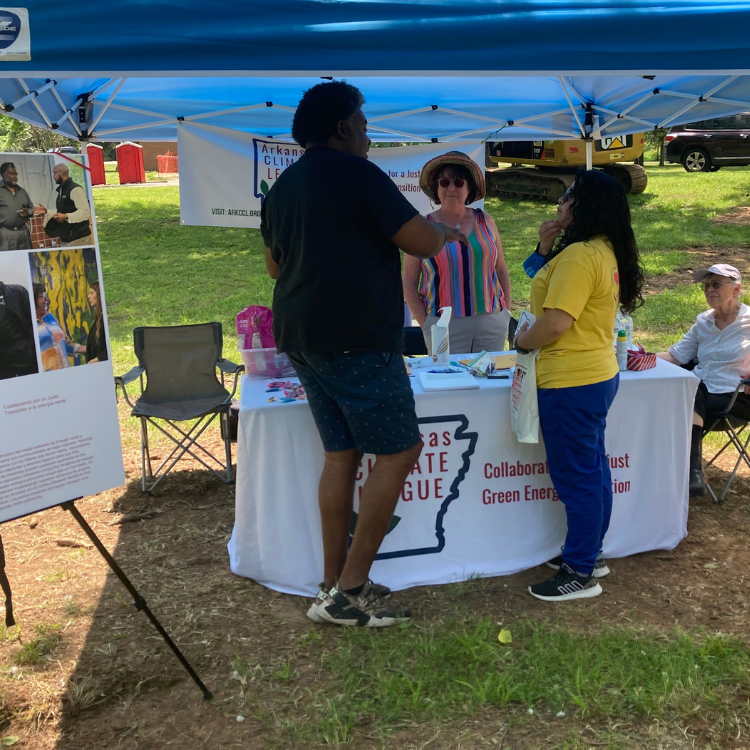 Tabling at Cinco de Mayo (above)
Small Conversations (below)